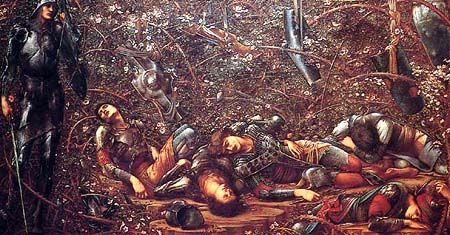 The Briar Wood
The fateful slumber floats and flows
About the tangle of the rose.
But lo the fated hand and heart
To rend the slumberous curse apart.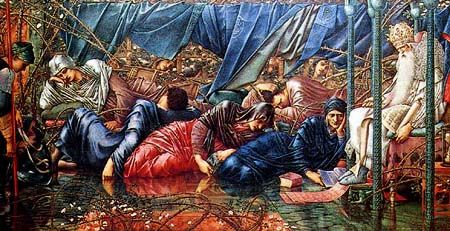 The Council Chamber
The threat of war the hope of peace
The Kingdoms peril and increase
Sleep on and bide the latter day
When fate shall take his chain away.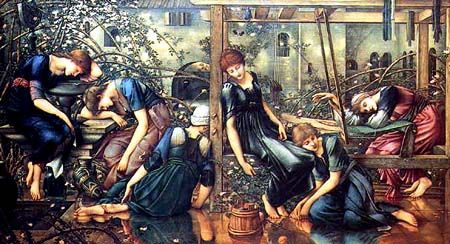 The Garden Court
The maiden plaisance of the land
Knoweth no stir of voice or hand
No cup the sleeping waters fill
The restless shuttle lieth still.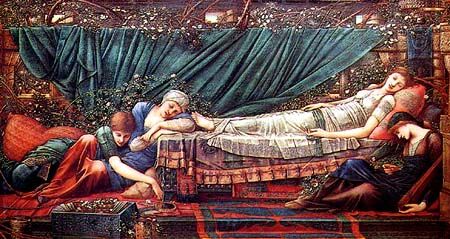 The Rose Bower
Here lies the hoarded love the key
To All the treasure that shall be
Come fated heart the gift to take
And smite the sleeping world awake.

The Legend of Briar Rose
is a series of paintings by Edward Burne-Jones, installed in Buscot Park, Oxfordshire. Inspired by the Brothers Grimm version of the Sleeping Beauty tale, each piece of the series - which was completed between 1885 and 1890 - is narrated by a poetic inscription by William Morris. The series captures a single moment in the story, as the prince happens across the slumbering castle.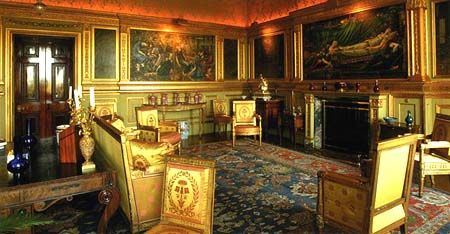 Buscot Park