It is with some sadness that we send our condolences out to family, friends and admirers of Forrest J Ackerman, who passed away on December 4th at the age of ripe age 92. Uncle Forry - one amongst many alias including 4E, FJA and Dr. Ackula - is perhaps most famous for his stint as editor of
Famous Monsters of Filmland
, the iconic magazine that reared at least two generations on the classics of Horror, Fantasy and Sci-Fi film. It should also be noted that he coined the term "Sci-Fi," in addition to being the first person to ever wear a costume to a Sci-Fi convention. Not content to be merely a fan, he was also a literary agent (including Ed Wood amongst his clients), frequent movie guest star, creator of Vampirella and all-round "Poor Man's Vincent Price." Born in 1916, his introduction to the genre came with the 1922 film
One Glorious Day
and he preserved this lifelong love by accumulating what was once the world's largest collection of genre film paraphernalia. This collection, housed in his "Ackermansion," had to be split up in his latter years as his health began failing. He was preceded by his beloved wife Wendayne and survived by legions of fans, filmmakers, and his closest friends, Ray Bradbury and Ray Harryhausen.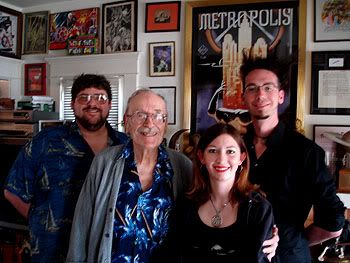 Myself (far right) and friends
with Uncle Forry, May 2006.
Though I never grew up on
Famous Monsters of Filmland
, I did come to know FJA when I grew into an appreciation for the Horror and Science Fiction films of the Golden Age. It was hard to get very far into anything from the original era of Universal Studios Monsters to their 1960's hipster revival without learning about, and from, Forrest J Ackerman. Never was there a more vivid storyteller and ambassador for classic genre film. Reading about him in magazines like
Wonder
and hearing him in documentaries like Don Glut's
Dinosaur Movies
, Forry became a latter day patron saint. In particular, he had some of incredible stories about seeing the original, 1925 version of
The Lost World
, my favorite movie.
It was researching that film which brought us to visit 4E in May of 2006 while on vacation in Los Angeles. Unfortunately, he sold all of the memorabilia and original stop-motion models related to
The Lost World
that he once held in the Ackermansion. However, he was still very gracious in showing us around his bungalow-sized Acker Mini-Mansion. Regaling us with stories, we saw such artifacts as Lon Chaney's hat from
London After Midnight
and his make-up kit, the original masks from the
Creature from the Black Lagoon
trilogy, one of Bela Lugosi's Dracula capes, a gift coffin-table from Ogre of Skinny Puppy, and more. We could tell these were stories that he told a hundred times, a thousand times, over, but he told them with as much zeal and affection as if it were the first. Afterwards, we were very pleased to treat him to lunch at his favorite local restaurant where we reenacted scenes from
Frankenstein
and
Dracula
over homemade pie.
Though he did not manage to reach his goal of 100 years, being the "George Burns of Science Fiction," he did lead a full and wonderful life. It is sad to know he is gone but good to know that he departed for the great convention in the sky with peace and good humour.