... Let's celebrate with a hiatus!
I know it is poor form to abandon a weblog only two months after starting it, but I have a valid excuse. For three weeks starting tomorrow, I will be on a cross-cultural practicum halfway around the world in Madagascar!
The trip is a necessary intensive course complimenting my past semester's Globalization and Ethics class. Over the coming weeks, we will be visiting justice and charity organizations in Madagascar, meeting and homestaying with members of our sister denomination and seminary, seeing first-hand the effects of corporate globalization, and of course, touring the country, swimming in the ocean and bushwacking the jungle. We will be seeing lemurs, which are among my favorite animals. I wouldn't mind seeing a coelacanth while I'm at it, but I don't want to be too demanding.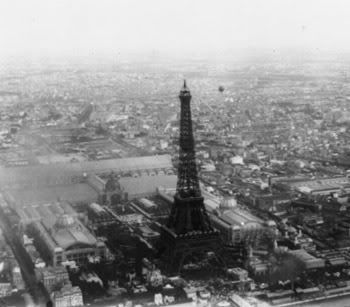 On top of that, the international flight from Canada to Madagascar connects through Paris! The layover includes an afternoon and overnight, which I'm as excited about as Madagascar itself. There won't be enough time to really appreciate the sights and sounds of the city in winter, which means I will be content enough just to visit the Eiffel Tower and take a cursory stroll along the Seine. Nevertheless, I find it astonishingly appropriate that the home of Jules Verne, Georges Méliès and Albert Robida will be my own gateway to a real-life Extraordinary Voyage.
Without it even needing to be said,
Voyages Extraordinaires
will not be updated while I'm on the other side of the globe in one of the world's most desperately impoverished countries. When I return in the last week in January, I may post a trip report if I feel up to it. (I'll undoubtedly have much sleep to catch up on, many photos to sort through and plenty of footage to edit into videos, provided I don't expire of malaria) We will return to our regular schedule in Febuary with our next theme month, however. Mark your calendars for a Febuary spent in the Magic Kingdom!
In the mean time, thank you all for your patronage of this fine weblog. Take care and we'll be seeing you again at the end of the month!